Threaded Inserts
---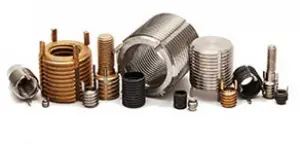 Aircraft Fasteners stocks a full range of high performance Threaded Inserts used in the aerospace, electronics and defense industries.
Threaded Inserts are designed to provide load-bearing threads in areas where access is only available from one side and the parent material is light-gauge. With a tubular body and interior threads, the product can be inserted into a prepared hole and then compressed or imbedded or collapsed allowing the attachment of an externally threaded fastener to complete the assembly.
Key-locked inserts
Knife-thread inserts for wood
Nutserts
Ring-locked inserts and studs
Rivet nuts
Sandwich panel (honeycomb) inserts
Self-tapping inserts
Thin wall inserts
Thread forming inserts
Press-in inserts
We are authorized distributors for the premier manufacturers of these products, including
SPS
,
KATO
and
Acme Industrial
.
Contact us
and let us help you with all of your threaded insert needs.