Aircraft High-Strength Nut Plates
---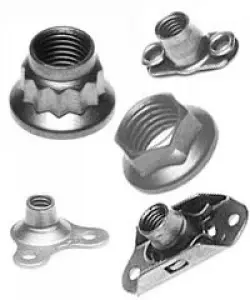 Aircraft Fasteners stocks a broad range of high-strength nut plates used in the aircraft, aerospace, electronics and defense industries.
High-strength nut plates are beneficial for many reasons including weight reduction, improved strength, added structural integrity and lower total assembly costs.
Advantages of using high-strength nut plates include:
Light weight - as low as 1/5th the weight of conventional anchor plates.
Substantially higher proof-load performance than conventional design
Free floating characteristics available for self-alignment with bolt if desired.
Self-retention features available for easy assembly.
Pre-tapped, thereby eliminating expensive thread cutting screws.
Our high-strength nut plate inventory includes many hard to find sizes from industry leading suppliers such as
Alcoa Fastening Systems
.
Please
Contact Us
for help with your high-strength nut plate needs.